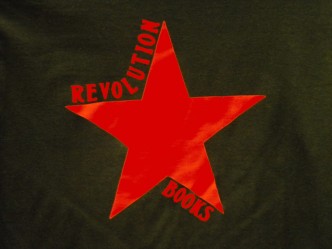 When one thinks of book stores in Hawaii, common images would be Hawaiiana, hiking maps, best eats, or tourist attractions. What about books on revolutionary commentary? Probably not. I am proud to say that we have such an establishment in our Aina. Today I interview one of the patrons of Revolution books who has been frequenting the store since the eighties .
What can you tell me about Revolution Books?
The store started in the 1970's by Bob Avakian, exactly when, I'm not sure. But the first store was located in Kalihi. Since then they've moved around and are now located near Pucks Alley. I wouldn't call it a franchise, however, they are related to other rev books in the states. How many are left, I'm also not sure, but there probably some still in existence in big cities like LA, and NYC. It is run by members of the RCP (Revolutionary Communist Party )
The chairman of the party is Bob Avakian, who exiled himself to France? " Bob is more than that: he's an innovative and critical thinker who has taken Marxism to a new place; he's a provocative commentator on everything from basketball to religion, doo-wop music to science and he's a pit-bull fighter against oppression who's kept both his solemn sense of purpose and his irrepressible sense of humor."
What can you find in Revolution Books?
The bookstore carries RCP literature, Mao, Marx and Lenin literature and tons of other things on social issues. They also carry poetry books, do film showings and have discussions on current issues. Lots of stuff you can learn; you can gain a whole new perspective on imperialism and how it affects us all. They have T-shirts, posters and maybe kids' books from the cultural revolution in China.
The store supports local issues as well, and in the past has been a gathering place for all activist, not just rcp members to meet up and make signs and plan out demonstrations etc…. Lots of info on domestic issues like women's rights, abortion and immigration. The new perspectives really make you see clearer, like putting on glasses for the first time.
What are some of the example of film screenings?
(Model Ballet: The White Haired Girl)
The Invisible War

Is there any academic support for bookstores in Hawaii?
Some professors at UH support the bookstore by recommending their students to buy their books there. It is overall a good place to have on our island, if just to get another opinion on issues.
Bookstores like Revolution Books in Hawaii are invaluable sources of unfiltered information.
Stop by and visit or attend one of their book reviews and or film screenings.