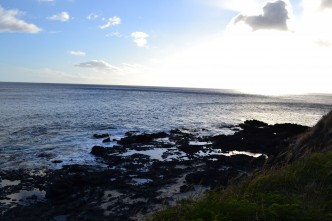 After the rout of the army of Kalanikuple, the king of Oahu at Nuuanu, April 29,1795 by the invading army of Kamehameha Nui, the conquered Oahuans were driven from their homes, their lands seized and divided amongst the friends of Kamehameha. The despoiled people in large numbers fled to Waianae and settled there.
.
This part of Oahu being hot, arid isolated, with little water, was not coveted by the invaders; the sea off the coast of Waianae has always supplied abundance of fish, hence the name Wai-water, anae-large mullet.
The Kilokilo Hoku, or astrologers. To preserve the folk-lore of their homeland, Oahu, the exiled high class priests or Kahunas founded a school at Pokai bay for instructing the youth of both sexes in history, astronomy, navigation, and the genealogies of their ancient chiefs and kings; romance and sentiment hovers round Mount Kaala (the mount of Fragrance), and three valleys extending from its western base to the Waianae shore, Makaha, the valley of robbery; Po-kai, the valley of the dark sea; Lualualei, the valley of the flexible wreath, is the meaning given in Hawaiian dictionaries. This is a vague definition, the true meaning is cryptical allegory relating to the clever strategy of the famous Maile-kukahi, a high chief of Oahu, whose flexible flanks of warriors surrounded four invading armies from Hawaii and Maui at the great battle of Kipapa(Kipapa, paved). Where the corpses of the slain paved the bottom of the ravine, about A.D 1410.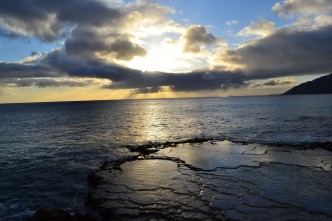 Kaala, is adored and named–Kaala nani O! ahu melemele a Kane, Beautifull Kaala, Oh! (with) the golden cloak of Kane, the sun Kane was the first deity of the Hawaiian panthenon. Kaala was the guardian or sentinel of the Komohana or west–Kaala was a resting place on the great road of Death, Ke Ala nui o ka make, along which the spirits of the dead returned to their former homeland.
.
.
The Komohana or west is where the tired sun lies down to sleep. The west is Kane ne'e ne'e the departing son. The west is the much traveled road to Kanaloa, Ke ala nui maa-we-ula a Kanaloa (The second deity of the Hawaiian pantheon).
.
.
A Mouritz,
Thermal Terrene Waters in Hawaii Nei,
July 5,1934, p128
Bishop Museum Scrap Book VOL 1931