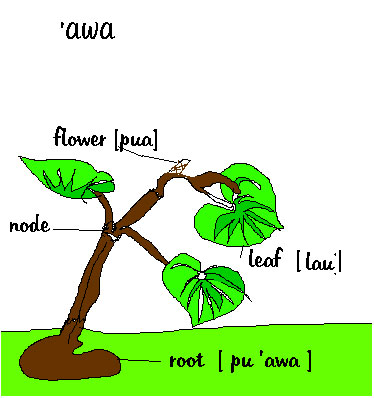 The grain (Alcohol) and the grape (Wine) in both ancient Greece, and the present millenium, it has been credited with the powers of inspiration and destruction.
In Hawai'i and throughout Polynesia we have a cultural alternative.
Awa:"Awa (Piper methysticum, pronounced ah-vah with the "w" as a "v"sound), a member of the pepper family, grows in the wild now and is also cultivated increasingly throughout the Pacific Islands, where it is called Kava or Kava Kava.
This plant grows well at low elevations where there is constant moisture and partial sun. More than a dozen varieties of `awa were known in old Hawaii."
Currently 'Awa is grown in Vanuatu, Hawaii, Fiji, Tonga, Samoa, Pohnpei, and a few regions of Papua
New Guinea.
" Hawaiians view kava('Awa) to be very sacred and have incorporated kava in a wide variety of religious
rituals. In these rituals, kava would be used as an offering by a farmer for the success of his
crops .Kava('Awa) consumption by all Hawaiians, while limited only by supply, was endorsed by chiefs,
village elders and healers to promote social ability and social cohesion."
As described in the history of Kawa Nakamalathome.com
All parts of the plant contain a relaxant or sedative element. However the roots which are grinded down to a fine powder. This powder is then used to make the 'Awa drink.
Depending on the freshness and plant variation, 'Awa can have a earthly bitter texture. Coconut water, or black tea can be added to distill the flavour.
It is recommended to drink 'Awa in one gulp.
Here is a instructional video on 'Awa (kawa making)

My perrsonal 'Awa preparation process:
Buy 'Awa / Obtain 'Awa – I generally obtain by 'Awa from the University Stop.
Use 1 gallon of water to 3/4 bag (I use cheese cloth)
Let soak for an hour or so.
Start kneading for 15 minutes.
Strain 'Awa, and store in gallon size containers, refrigerate.
If the 'Awa is cold, it will be smoother and slightly stronger.

I buy my 'Awa from : The University Stop

Further reading and sources:
Nakamalathome.com
Canoplants.com
Kava by Rex
Image by Hawaiian Plant Detectives